Anti-Wrinkle Serum with 200,000 I.U. of Retinol
Anti-Wrinkle Serum that contains 200,000 IU of retinol and other plant based ingredients designed to tighten your skin's surface and restore elasticity. 

Prices for singles, case of 5, 10 
50ml Pump of Anti Wrinkle Serum:
Singles: $45.00
Case of 5 $131.00 ($26.00 ea)
Discount of 10% start at $500.00
Prices do not include shipping charges. We do not charge a handling charge, we only pass the shipping charges on to you.
Anti Wrinkle Serum comes in 2 labels or we can create your own label for you


---
In the skin products, they really stand out on the shelves
---
We love to private label and drop ship! Let us create a label for you or give us your design.

If you want us to drop ship, no problem, instant business for you.
---
Natra line, our original flagship brand, very elegant looking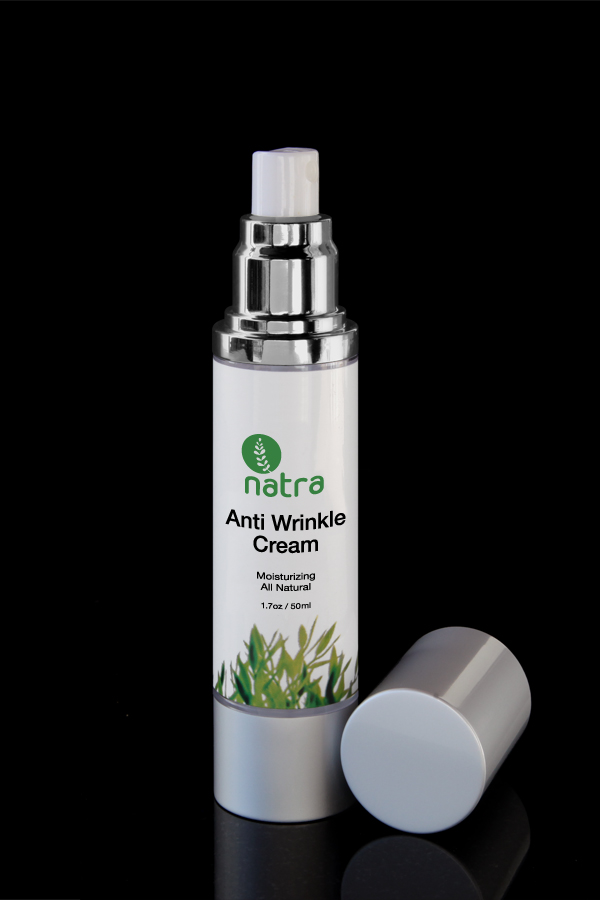 ---

Anti Wrinkle Serum Ingredients are plant based with no synthetic ingredients
Ingredients:
Purified water, Organic MSM, PhytoCellTec™ Malus Domestica, Palmitoyl Pentapeptide
(Matrixyl), Retinol (100,000 IU/oz.), Hyaluronic Acid, Oils of Aloe Vera, Avocado, Sunflower,
Jojoba and Sea Buckthorn; Rosehip, Carrot, Vitamin D, E and Ester-C, DMAE, Alpha Lipoic
Acid, Co-Q10,, Glyceryl Monostearate, Stearic Acid (plant source emulsifier), Caprylic
Triglyceride (coconut based moisturizer), Lavender Essential Oil, Nutra OPA (organic plant acid
extracts).
Application:
Apply twice daily to the face and neck using an upward motion.
Benefits:
Organic MSM:
MSM makes cell walls permeable, allowing nutrients to freely flow into the skin cells.
Retinol: (200,000 IU per oz.)
Retinol plumps wrinkles and promotes the release of collagen, which adds youthful volume to
the face. Retinol safeguards skin from collagenase, an enzyme triggered by sunlight that
breaks down collagen.
Hyaluronic Acid:
Hyaluronic Acid and Collagen are vital to maintaining the skin's layers and structure. It is the
collagen that gives the skin its firmness but it is the Hyaluronic Acid that nourishes and hydrates
the collagen. With age, the ability of the skin to produce Hyaluronic Acid decreases. In the dry
skin formulas Hyaluronic Acid provides continuous moisture to the skin by binding up to 1000
times its weight in water.
Aloe Vera:
Aloe Vera contains a plethora of antioxidants, including beta carotene, Vitamins C and E, that
help improve skin's firmness and hydration levels.
Avocado Oil:
Avocado oil is rich with essential nutrients that soothe and moisturize your skin. Avocado oil
provides a good natural source of Vitamin A plus an amino acid known as glutamine which
protects your skin from environmental damage.
Sunflower Oil:
Sunflower oil is an excellent source for beta-carotene and Vitamin A, providing many antioxidant
properties that are beneficial to the appearance and health of your skin.
Jojoba Oil:
A natural emollient, jojoba oil's similarity to sebum allows it to absorb easily and readily into your
skin, making it a gentle, skin-softening moisturizer for all skin types.
Sea Buckthorn Oil:
Sea Buckthorn oil has multiple benefits in the area of restorative and anti-aging skin care.
Natural antioxidants and essential fatty acids help reverse damaging effects of sun
radiation and minimize long term effects of sun exposure, like wrinkles, dryness, dark
spots reduce skin inflammation, promote natural skin restorative processes . The oil is well
tolerated by any type of skin and provide long term anti-inflammatory, restorative and
revitalizing action.
Rosehip Oil:
Rosehip oil is a good source of Vitamin C, carotenoid pigments and flavonoids,
Antioxidants like Vitamin C help to prevent free-radical damage in cells. Carotenoids and
flavonoids also provide antioxidant action which assist in preventing premature signs of aging.
Carrot Oil:
Carrot oil is rich in beta-carotene and antioxidants carotenoids (Vit A) and tocopherol (Vit E)
and is used in skin creams and for its healing and medicinal effects.
Vitamin D:
Vitamin D mobilizes your skin's immune system and helps destroy free radicals that can cause
premature aging.
Vitamin E:
Vitamin E boosts collagen production, increasing the connective tissue that keeps the skin
elastic.
Ester-C:
Vitamin C Ester is ideal for repairing the effects of sun damage and designed to restore
smoothness, brightness and luminosity, while visibly firming skin.
DMAE:
Minimizes pores, tones and tightens the skin. Dramatically increase elasticity. Strengthens and
stabilizes the cell's plasma membrane. Enhances access of vitamin C and alpha lipoic acid into
the skin. Documented increase in skin firmness with possible improvement in underlying facial
muscle tone. (Am J Clin Dermatol. 2005. Grossman R. Johnson and Johnson Consumer
Products Worldwide, Skillman, NJ).
Alpha Lipoic Acid:
Alpha-lipoic acid is a potent antioxidant can make its way into all parts of a cell, offering
maximum protection against free radical damage while enhancing the effects of other
antioxidants including vitamins C and E. ALA supports the decrease of fine lines and increases
the health of the skin.
Coenzyme Q10:
Coenzyme Q10 levels are highest in early adulthood and then decline steadily. When
levels of coenzyme Q10 in the skin are low, the skin has less ability to produce collagen and
elastin. Topical application of Co-Q10 increases collagen and elastin production, improving skin
firmness, smoothness and flexibility.
Glycerol Monostearate:
Slows the loss of water from the skin by forming a barrier on the skin's surface thus increasing
the hydration levels of the skin.
Stearic Acid: (Plant Sourced)
Stearic acid is found naturally in the outer protective layer of our skin, and is an elemental
building block in the lipid layers of the skin. These layers form an obstruction against pathogens
and germs and help keep our skin's natural moisture.
Caprylic Triglyceride: (Coconut based)
Caprylic/capric triglyceride creates a barrier on the skin's surface, decreasing the amount of
moisture lost through the skin. It assists in preventing dryness in skin and also acts as a skin
conditioning agent.
Lavender Essential Oil:
Lavender promotes the growth of new skin cells while having a balancing effect on sebum
production.
Nutra OPA (Organic Plant Acid Extracts)
The antibacterial and antifungal properties of OPA help keep the skin clean and detoxified
Achieve results with plant based products!
Our site's table of contents is below, or you can use the navbar to the left.

---
Plant based private label health products at wholesale prices. Small batches ok, full service with drop shipping available.
Get this unique immune system booster that is anti fungal, anti viral and anti bacterial to cleanse your body of harmful micro organisms. Wholesale prices are available.
All natural spa skin care products without synthetic preservatives. So natural they are edible! Revitalize and rejuvinate skin, remove wrinkles and look younger. Great for after sun!
Nontoxic skin care that is professional strength and natural is here. We use MSM, OPA, E3 Estriol, Retinol and essential oils to achieve amazing, results. No syntetic preservatives. Wholesale prices!
Professional grade antiaging-antiwrinkle cream as well as anti aging systems. All products contain natural ingredients only and preservative free. Wholesale prices are available.
Joint pain relief products that are safe, natural and preservative free. Reduce your need for anti inflammatory medications. MSM and herbal based treatments that work. Wholesale prices available.
The best energy drink stimulates your body's natural engine. It's called fulvic acid and it causes the body's cells to absorb more of the nutrients you already take in.
Contact us at Suns Natural Health Products for wholesale and private label health products.
Get to know us and learn why you should trust us for your wholesale and private label health products.