Natural Joint Pain Relief that Relieves Arthritis and Enhances Mobility -Made in America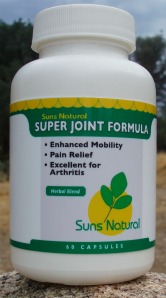 Proven supplement reduces need for anti inflammatory medications

Natural joint pain relief that contains a proprietary blend of herbs, minerals and green lipped mussel lipid extract. This product has been on our lineup for over 3 years and is proven to work. Suns Natural Super Joint natural joint pain relief is guaranteed! You have no risk, if super Joint does not work for you, we will refund your money.
Vegetarian caplets contain powder ingredients

We have made the product easy to take by making our formula into a powder form then packing it into vegetarian capsules. Our caps are easy to swallow as usual or open up the capsules and pour them into a beverage
Designed to heal, not a band aid. Truly natural joint pain relief.
There is no reason to compromise. Anti inflammatory medications reduce inflammation for a short period of time, say 4 to 6 hours and do not solve the problem. Suns Natural Super Joint is not a band aid because we use natural proprietary ingredients to reduce inflammation by assisting the body in its process to combat the complicated process of pain and inflammation.
As you use Super Joint for natural joint pain relief, the ingredients build up within your body, accumulating over time assisting your body's own mechanisms. The active ingredients work in concert to ease your pain by reducing swelling and allowing your joints to move free-er thus opening up a whole new spectrum of possibility.
Ingredients within Super Joint reduce swelling by naturally removing fluids and toxins. With reduced swelling and then pain, more mobility should be expected. Mobility is a two edged sword; move more, reduce swelling but there is a possibility of more pain. This is the problem, if we don't move we hurt more. If we move we hurt too, but we are also bringing healing. Moving helps your body remove the toxins that create pain. Another miracle happens; more mobility brings new strength.

This is how we bring relief, no band aid, no nsaid's (non steroidal anti inflammatory drugs), we help restore movement. We begin the ball rolling to a cascade of healing...because...You need to move!

6 powerful ingredients combined by a pharmacist proven to bring natural joint pain relief.

Glucosamine Hydrochloride
Manganese
Celery
Ginger
Gotu Cola, (Pennywort)
Pure, New Zealand green lipped musssel lipid extract
Glucosamine Hydrochloride(HCL)

The body uses glucosamine to sustain and repair joints and the treatment of osteoarthritis. But why Glucosamine Hydrochloride instead of the more common Glucosamine Sulfate? With age the bodies glucosamine production diminishes, injuries and use take a further toll on our joints. Thus doctors recommend more glucosamine is needed to build and sustain our joints, making an efficient bio available glucosamine supplement necessary.
The HCL form has been shown to be more bio available to the body. In addition for those on restricted diets Glucosamine Sulfate adds to sodium intake. This is why Suns Natural Super Joint contains Glucosamine HCL not Glucosamine Sulfate. In addition and very important, Glucosamine Sulfate is rendered from Glucosamine HCL, so the HCL by nature is by percent, more potent.
Manganese

Manganese is a co-factor, required for glucosamine to be adequately absorbed. It is important to make sure the glucosamine supplement includes manganese.
Celery

Celery may increase elimination of urates from the kidneys, and assist in Gout - an arthritic disease caused by an accumulation of urate crystals at the joints. Celery may also reduce inflammation around the joint. Think mobility!

Ginger

Ginger has been used for centuries for pain relief in musculo-skeletal conditions. It is an excellent antioxidant and is known for its analgesic activity.
Gotu Cola, (Pennywort)

Gotu Cola, also known as Pennywort, is well known natural remedy to assist pain relief and proper circulation of blood. Move blood, get the old out bring in new and bring in healing.

Pure, New Zealand green lipped mussel lipid extract

Pure, New Zealand green lipped mussel lipid extract is known for temporary relief of arthritis pain and the reduction of joint inflammation. New Zealand green lipped mussel lipid extract is rich in Omega 3 Fatty Acids. Omega 3 Fatty Acids are known to reduce inflammation. Lipid extract is the purest and most potent form of this supplement and may help reduce swelling associated with arthritis.
Suns Natural Super Joint natural joint pain relief is guaranteed! You have no risk, if super Joint does not work for you, we will refund your money.
Questions? 866-905-3759 or info@sunsnatural-healthproducts.com

Return back to joint pain relief products from natural joint pain relief page.

Achieve results with plant based products!
Our site's table of contents is below, or you can use the navbar to the left.

---
Plant based private label health products at wholesale prices. Small batches ok, full service with drop shipping available.
Get this unique immune system booster that is anti fungal, anti viral and anti bacterial to cleanse your body of harmful micro organisms. Wholesale prices are available.
All natural spa skin care products without synthetic preservatives. So natural they are edible! Revitalize and rejuvinate skin, remove wrinkles and look younger. Great for after sun!
Nontoxic skin care that is professional strength and natural is here. We use MSM, OPA, E3 Estriol, Retinol and essential oils to achieve amazing, results. No syntetic preservatives. Wholesale prices!
Professional grade antiaging-antiwrinkle cream as well as anti aging systems. All products contain natural ingredients only and preservative free. Wholesale prices are available.
Joint pain relief products that are safe, natural and preservative free. Reduce your need for anti inflammatory medications. MSM and herbal based treatments that work. Wholesale prices available.
The best energy drink stimulates your body's natural engine. It's called fulvic acid and it causes the body's cells to absorb more of the nutrients you already take in.
Contact us at Suns Natural Health Products for wholesale and private label health products.
Get to know us and learn why you should trust us for your wholesale and private label health products.