An immune system boost with organic plant acids(OPA) fends off harmful bacteria, keeps the good
Why do we call defense drops an immune system boost? Natra defense drops containing organic plant acids by Nutra helps keep the GI tract in balance so that you will assimilate more nutrients leading to greater health, energy and endurance. 2 strengths are available.

Everyday Protection; Defense Drops -Evidence of efficacy below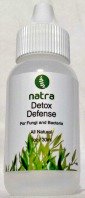 For use where water conditions are generally safe; for example, Canada the USA and most of Europe. Helps keep the GI tract healthy so you can assimilate more nutrients for greater energy and endurance. 30 ml, 1/2 dropperful or 15 drops daily, approximately 45 doses.
Kills unwanted bacteria
Use for fungi

Prevent colds and flu
Toe nail fungi

Extra strong; Ultra Defense drops -A great traveling companion will keep your immune system strong

Unfortunately getting sick in a foreign environment during travel is all too common. Natra's defense drops as an immune system boost not only keep you strong but the organic plant acids within protect you while traveling by supporting healthy bacteria and destroying the bad. (which we've said keep your GI system strong) These work in the same way as the daily drops but are much more concentrated.Please keep reading proof is coming.

They are especially useful in hot climates such as the tropics where fungi is much more common. For relief of fungal and bacterial infections of the GI tract most commonly experienced during travel after eating or drinking.
---
OPA as an effective anti bacterial has many uses. Most important bacteria do not mutate and become resistant.

How many times have you heard of the "super bugs" that live inside of hospitals? Staph infections and Mersa are real problems today because of mutating bacteria.
Nutra OPA is not an antibiotic or chemical that affects DNA. OPA does not create resistance and does not require rotation.

---
Kill toe and foot fungi effectively with OPA

Fungal infections that create toenail fungus and other foot irritations like athletes foot are treated effectively with OPA. As a foot treatment a 30 ml bottle comes with a spray nozzle, this is one month's supply.

OPA used to kill kitchen bacteria

OPA based sprays such as Ultra defense comes with a spray nozzle so you can use it as a totally safe kitchen disinfectant. OPA kills germs on contact and is not poisonous like bleach.

We know you're wondering how they work, read on.

Questions? 866-905-3759 or info@sunsnatural-healthproducts.com
Return to OPA product page from this immune system boost page

Achieve results with plant based products!
Our site's table of contents is below, or you can use the navbar to the left.

---
Plant based private label health products at wholesale prices. Small batches ok, full service with drop shipping available.
Get this unique immune system booster that is anti fungal, anti viral and anti bacterial to cleanse your body of harmful micro organisms. Wholesale prices are available.
All natural spa skin care products without synthetic preservatives. So natural they are edible! Revitalize and rejuvinate skin, remove wrinkles and look younger. Great for after sun!
Nontoxic skin care that is professional strength and natural is here. We use MSM, OPA, E3 Estriol, Retinol and essential oils to achieve amazing, results. No syntetic preservatives. Wholesale prices!
Professional grade antiaging-antiwrinkle cream as well as anti aging systems. All products contain natural ingredients only and preservative free. Wholesale prices are available.
Joint pain relief products that are safe, natural and preservative free. Reduce your need for anti inflammatory medications. MSM and herbal based treatments that work. Wholesale prices available.
The best energy drink stimulates your body's natural engine. It's called fulvic acid and it causes the body's cells to absorb more of the nutrients you already take in.
Contact us at Suns Natural Health Products for wholesale and private label health products.
Get to know us and learn why you should trust us for your wholesale and private label health products.